Immerse yourself in the finest experience of Adirondack hospitality when you escape for a "Culinary Weekend" getaway at the Mirror Lake Inn in Lake Placid, NY amidst the backdrop of fall's vibrant leaves and crisp, cool air.
In partnership with the postcard-perfect Mirror Lake Inn, Carriage House Cooking School welcomes visitors from near and far to the bounteous Adirondack region November 15-17 in pursuit of a memorable and delicious culinary experience!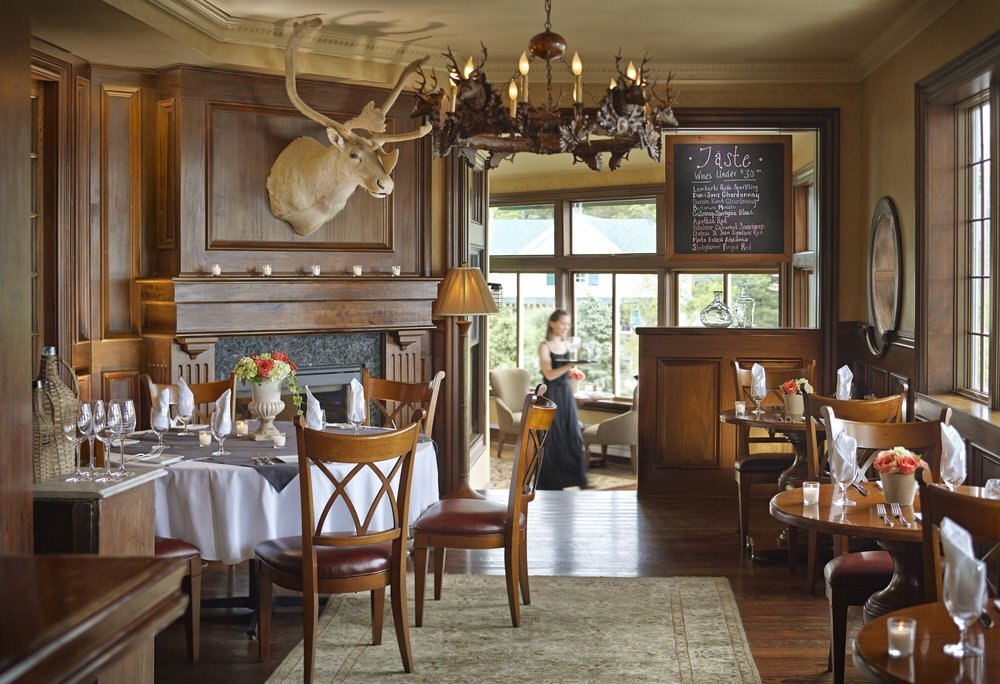 Attendees will experience:
A 2-night stay at award-winning Mirror Lake Inn, with an on-site spa and restaurants rated #1 on TripAdvisor.

Breakfast each morning

A welcome reception on Friday to meet Chef Curtiss, Chef Jarrad and some of the MLI team

Dinner in our Four Diamond restaurant, "The View" the evening of your choice (reservations required)

Saturday afternoon "Edible Adirondacks" and Sunday morning "Adirondack Inspired Brunch" demonstration-style cooking classes with Carriage House Cooking School's passionate and talented Chef Curtiss, former Dean at the prestigious New England Culinary Institute and long-time partner and guest instructor at Mirror Lake Inn.

The inn's convenient location near downtown Lake Placid, with access to shops, waterfront recreation, nightlife and plenty of other fun things to do!
Class menus for this weekend getaway feature specially selected culinary interpretations inspired by the Adirondack region's rugged character and natural resources.
Class Session 1 | "The Edible Adirondacks"
Attendees will learn more about the area's plentiful harvests, hunts and forages this time of year, highlighting recognizable regional locations and their historic significance.
Demonstrated recipes for "The Edible Adirondacks" class include:
West Branch Trout Rillette
smoked trout, onion, dill, dijon, olive oil, lemon

Ausable "Club" Salad
Farmin' It greens, Triple Green Jade "crouton", Moon Valley jerky, Reber Rock chicken, seared tomatoes, red onion, herb mayonnaise

The Hunters Bounty
reverse seared duck, UBU Ale gastrique, mushrooms, vermouth braised carrots, fondant potatoes, Bronson's Golden Bees honey

The Orchard & Apiary
Northern Orchard pan roasted pears, Bronson's Golden Bees honey, Asgaard Farm blue chèvre, walnuts
Class Session 2 | "An Adirondack Inspired Brunch"
Bask in a selection of whimsical brunch favorites, including not one, not two, but THREE different styles of Eggs Benedict!
Demonstrated recipes for the "An Adirondack Inspired Brunch" class include:
Orange & Balsamic Salad
navel orange slices, basil leaves, red onion, olive oil, saratoga olive oil vinegar, salt, pepper

"Lyonnaise" Potatoes
gold potatoes, onion, butter, paprika, herb, garlic

Trio of Adirondack Inspired Benedicts

The 46er (grilled Triple Green Jade bread, trout a la plancha, crispy fried egg, hollandaise)
The Ausable River Valley (biscuit, grilled Asgaard Farm ham, scrambled carriage house eggs, smoked paprika & pepper hollandaise)
The Great Camp (brioche, asparagus, smoked salmon fillet, "poached" Carriage House Cooking School egg, tomato tarragon hollandaise)

"Revolutionary" Fool
Kate Mountain Farm lard biscuit, fruit puree, chantilly, Bronson's Golden Bees honey
As with any of Carriage House Cooking School's classes, participants enjoy lively and engaging discussion with other guests whose passions for high-quality cuisine match their own. They'll also learn where to find the best local ingredients!
Register today!
Rates start as low as $197.50 per person, per night
*Priced based on Double Occupancy
*Rates are subject to availability
*Taxes and gratuities are additional
Space is limited so please call The Mirror Lake inn reservations department directly to book this package at 518.523.2544